Introducing a New Design!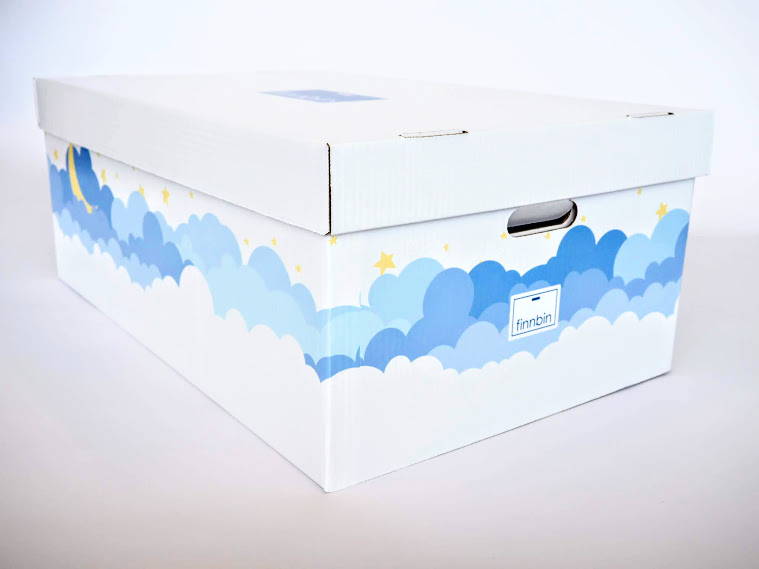 You have spoken and we have listened! In May, Finnbin started to ship baby boxes with a brand new look and feel. This change originated from feedback from our customers, our healthcare partners and expecting parents who were in search of a sturdy, affordable, and sustainable sleeping environment for newborn babies. Although we kept many of our marquee features, we've made a few significant changes to enhance the look of our baby boxes with a new gender neutral design, an extra layer of cardboard that protects the surface of the box and added a few safety features.
The new labelled exterior layer on every Finnbin baby box give a little extra protection from any fluid that your newborn might throw at it. A simple damp rag will now wipe away any mess without compromising the integrity of the baby box.
The handholds on the Finnbin baby box make it easy for parents to bring a safe sleeping environment for their newborn wherever they go, but the handholds also provide ventilation. These handholds meet and exceed the requirements set forth by ASTM.
We've added permanent warning labels to both the lid and the baby box to ensure that every parent knows the proper way to use the baby box in the safest way possible. We also included illustrations and a warning label for our parents that speak Spanish.
NEW DESIGN BUT SAME GREAT FEATURES
The mattress that comes standard with every Finnbin baby box is of the highest quality. We source the mattress from California because they have the highest standards for mattresses. It is also water-proof in case of an accident, leak, or blowout.
Every Finnbin baby box comes with at least one 100% cotton fitted sheet. This sheet is custom designed specifically for the Finnbin mattress with a tight fit to ensure a safe sleeping environment per the American Academy of Pediatrics.
Finnbin sources our corrugated cardboard from managed forresties in the United States to ensure sustainability for future generations. All of the materials that make a Finnbin baby box are 100% recyclable. Cardboard is a renewable resource.