Baby box programs support Local families, your community & your organization while Positively engaging with patients.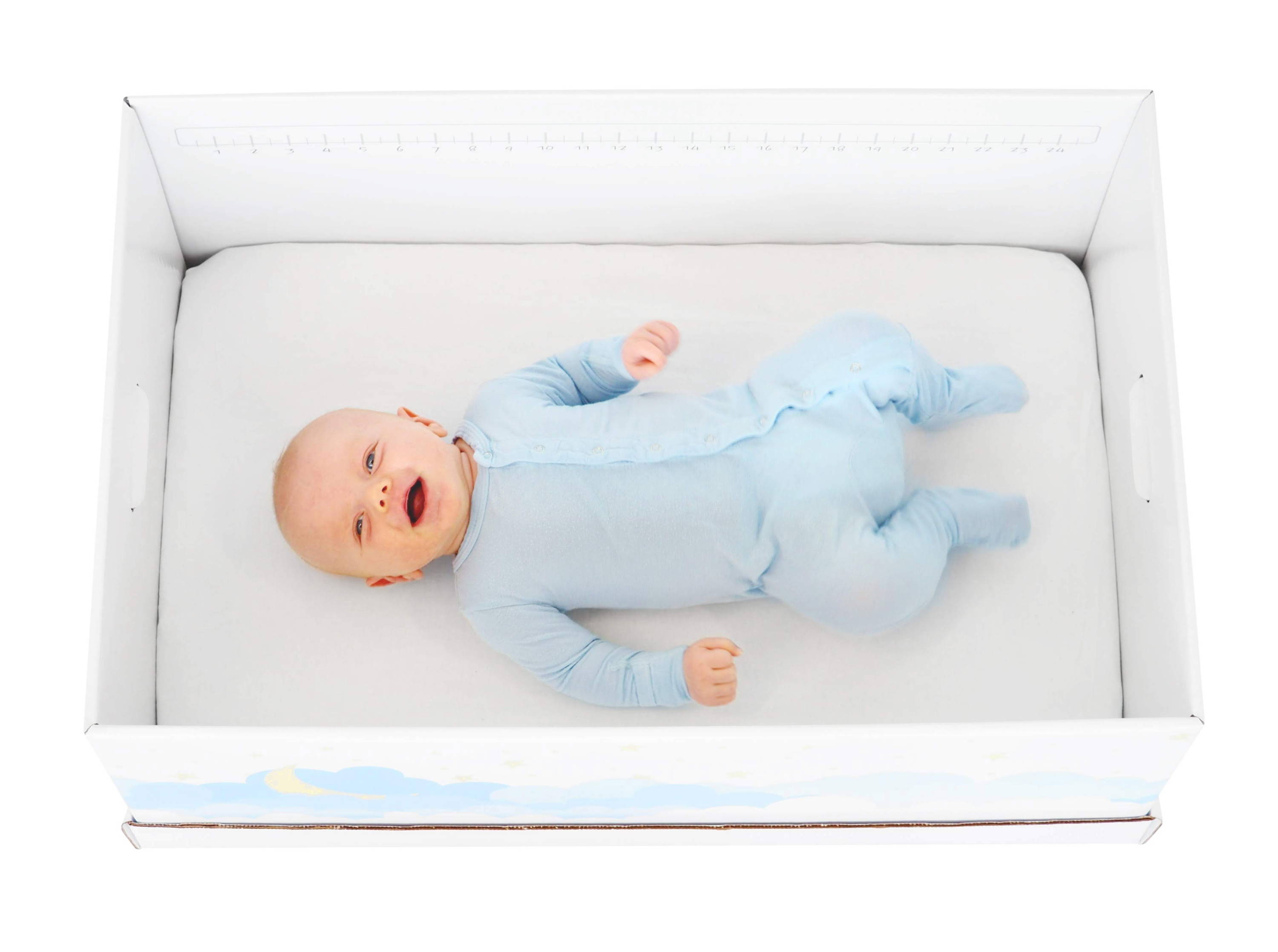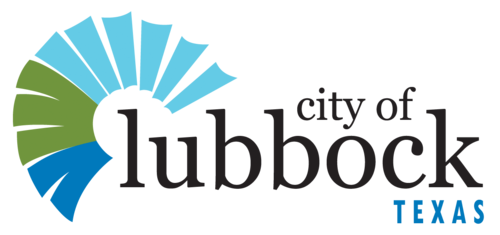 Baby boxes are sturdy corrugated cardboard boxes that have been distributed to new moms in Finland since the 1930s. An inexpensive bassinet, they offer babies a safe sleeping environment and a whole lot more. The boxes often come equipped with essential products for mom and baby like diapers and clothing. Some say Finland's baby box program have helped Finland achieve one of the World's lowest infant mortality rate. Learn more about baby box history.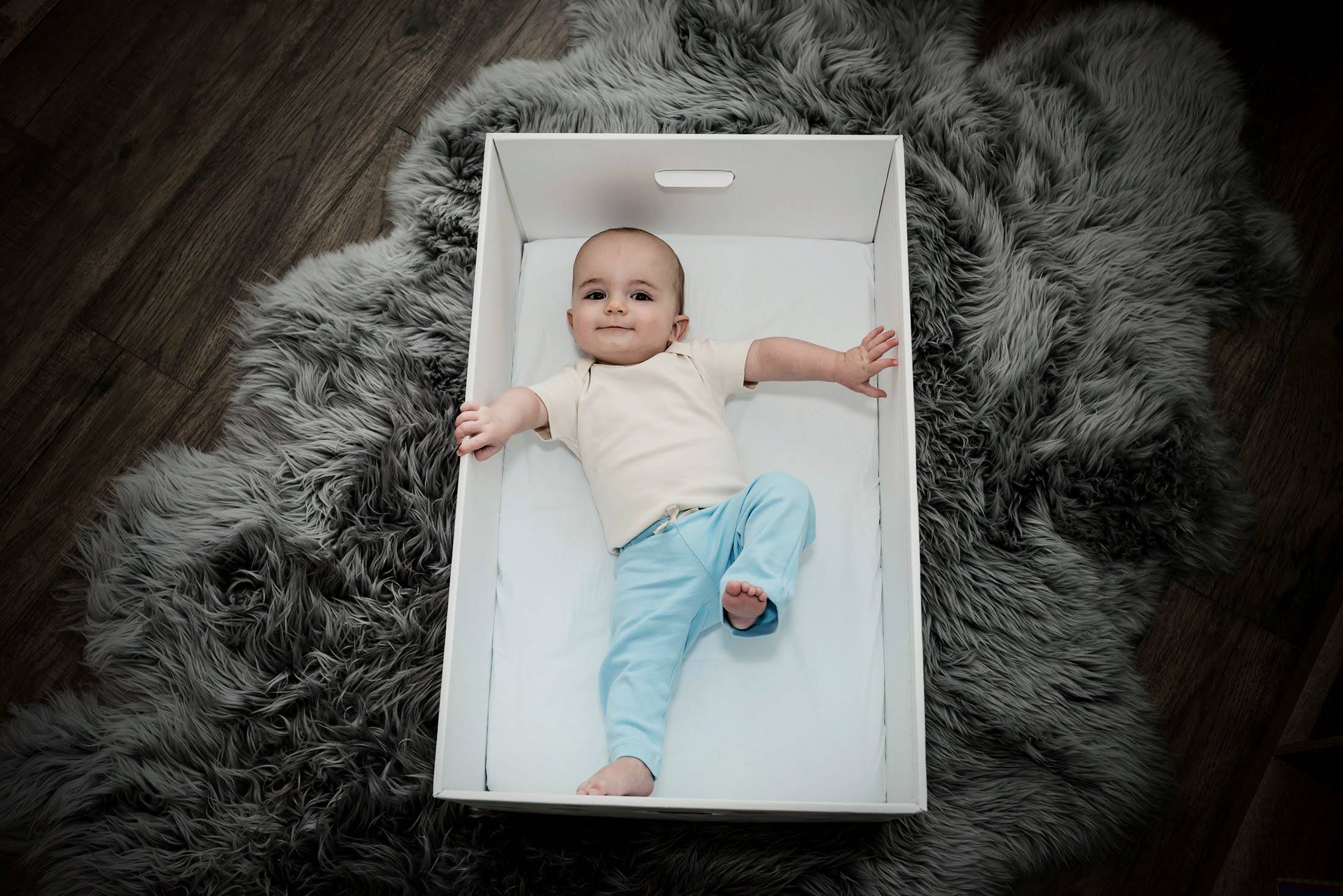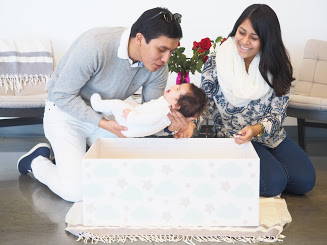 The AAP notes that a large percentage of babies who die of SIDS are found with their heads covered, blocking their ability to breathe. For this reason, it is not recommended that parents share their bed with their baby. Baby boxes allow children to sleep close to the parents on a safe surface with room to breathe. Additionally, baby boxes are light and portable, so parents can provide a safe sleeping environment throughout the home or office. Most importantly, baby boxes are affordable.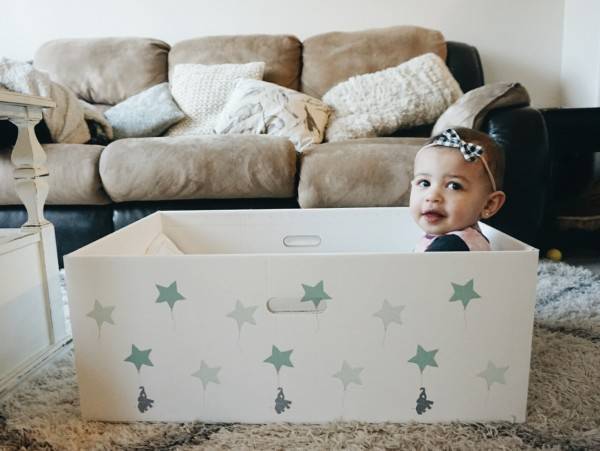 IS THERE EVIDENCE TO SUPPORT THE EFFICACY OF BABY BOXES?
In 2015-2016, Temple University conducted a study in which 2,763 mothers completed a survey regarding the efficacy of baby boxes. The study showed that baby boxes combined with personalized sleep education, reduced the rate of a key unsafe infant sleep practice (bed sharing) during the first week of infancy. For exclusively breastfed infants, a population at increased risk of bed-sharing, bed-sharing was reduced by 50%.
BABY BOXES ARE GOOD FOR BABIES & BUSINESS
Baby boxes are relatively inexpensive but can have a significant impact on a patient population or a community. The impact can be far reaching and extend beyond health benefits.
Baby box programs can help extend the patient relationship beyond the walls of the hospital. They can also be an innovative maternity or paternity benefit for your employees.
Patient satisfaction is an integral part of the modern consumer-centric healthcare organization. A baby box is a great way to make sure your patients go home happy.
See what parents and medical professionals say about Finnbin Baby Box.
FREQUENTLY ASKED QUESTIONS
Where is Finnbin located?
Finnbin is located in historic Park City, Utah.
Are Finnbin's baby boxes made in the USA?
Yes! Finnbin is committed to safety. We source the baby box and lid from US-based corrugated manufacturing plants to ensure that quality measures are being met and the baby boxes are free of any harmful chemicals (read more about Finnbin baby boxes sustainability). Our sleeping pads come from California because they currently have the strictest safety standards for mattresses.
Can I customize the baby box for my program?
Absolutely! Finnbin allows you to customize the design on the exterior of the baby box and hand-select the products that you want to include inside the baby box for your patient population or employee benefit program. Finnbin can create a baby box package that will fit your budgetary constraints.
What is the baby box mattress made of?
Finnbin's mattress is made of polyurethane foam with a water-proof polyethylene vinyl acetate (PEVA) cover. The foam contained in the mattress is certified CertiPUR-US which adheres to the following specifications:

- Made without ozone depleters

- Made without PBDEs, TDCPP or TCEP ("Tris") flame retardants
- Made without mercury, lead, and other heavy metals
- Made without formaldehyde
- Made without phthalates regulated by the CPSC
- Low VOC (Volatile Organic Compound) emissions for indoor air quality (less than 0.5 parts/million)
Additionally, the FInnbin mattress meets the requirements of 16 CFR Part 1633 (federal flammability (open flame) standard for mattress sets) when used without a foundation.
What are the dimensions of the baby box?
Finnbin baby boxes measure (inside) 27 1/4" x 17 7/16" x 10 5/8".
How long can a baby use a baby box?
Every baby is different and it depends on how quickly the baby grows. Our recommendation is for babies to stop using their baby box as a primary sleep space once they can pull themselves up independently. A baby who can roll, however, is perfectly safe inside his or her Finnbin, and the box will not tip over as long the baby box is on a flat, sturdy surface.