The Finnbin Boxinet™ is inspired by the 80-year old Finnish newborn sleeping tradition that has been credited with helping Finland achieve one of the world's lowest infant mortality rates. This baby box bassinet is made in the USA with corrugated cardboard sourced from managed forestries to ensure sustainability and manufacturers who are certified to Sustainable Forestry Initiative® (SFI®) standards. The exterior surface of this baby box is labelled for extra protection and features a gender neutral "Clouds, Stars and moon" design. 
The Finnbin Boxinet™ measures 27.5" in length x 17.75" in width x 10.75" in height and includes:
1 x Boxinet™ Baby Box
1 x Baby Box Lid
1 x Infant Waterproof Sleeping Pad
1 x 100% Cotton Fitted Sheet
The following products are also included to help you prepare for your baby: 
1 x Dr. Brown's Options Baby Bottle, 8 Ounce

First convertible bottle that can be used with or without the vent system.
BPA-free.
The nipple venting creates a paced flow, and provides a feeding experience similar to most nipple-vented bottles.
Dr. Brown's Options Bottles fit most breast pumps and are dishwasher safe (top rack only).

1 x Dreambaby Bath Tub Thermometer
1 x Pack of Diapers
1 x Pack of Wipes
Additional sheets are available for purchase here.
NOTE: Our products change from time to time. Patterns and products reflected in the images may be different than the products listed in the product description.
Customer Reviews
Write a Review
Ask a Question
Filter Reviews:
Finnbin
baby
gift
room
mattress
house
place
sheet
quality
bassinet
11/19/2020
Heather H.
United States
So cute!
Just got our bin and it's adorable. Can't wait to use it when baby Ryker gets here!!
11/16/2020
Laura
United States
Love our Finnbin!
We are loving our Finnbin and so is our tiny baby! Love the simplicity and the fact that baby sleeps so well and we feel she is so very safe in her box. The Finnbin is perfect and does not take up as much space as a full crib. We really appreciate all the extra goodies that come with it as well :-) We would highly recommend the Finnbin to anyone looking for a safe sleeping option for their infant.
11/14/2020
Jean F.
United States
Very satisfied twin mom
I received Finn bin boxinet as a gift. I researched several similar products, and I am very happy with this product. I have 10 day old twin girls (approximately 5.5 - 6 lbs each). This bassinet is sturdy and allows them to comfortably sleep together swaddled on their backs. This bassinet can come with me into any room, and saves me a lot of trips back and forth around the house putting two babies down. I love how convenient and easy to clean this product is. I have two tiny satisfied customers!
11/13/2020
Brittany W.
United States
So versatile!
We are loving our finnbin so far! So easy to move from room to room. It's perfect to use for tummy time, too! We love how safe it is to use with our little one.
11/12/2020
Stacey T.
United States
Great Crib Alternative!
My little one hasn't been born yet, but I love that there is an alternative out there for small living spaces. The box came in great condition and the cute design and mattress make it feel like a cozy little bed for my little one to use soon!
11/10/2020
Courtney
United States
Can't wait to use it!
I was thrilled to receive Finn Bin as a gift after hearing wonderful things. We're looking forward to the safety, convenience, and portability that the baby box provides. Friends with toddlers who didn't have the Finn Bin are jealous and can't wait to hear my firsthand experience as they already think about getting one for their second children! We can't wait to use it.
11/05/2020
Morgan .
United States
We love our FinnBin
FinnBin has provided us with a wonderful experience from the moment we placed our order! Being a first time parent with a brand new baby who arrived earlier than expected so we were a little unprepared when we arrived home - we needed a safe place for our baby to sleep downstairs. We were a bit sleep deprived when we placed the order and forgot to add extra sheets so we placed another order. FinnBin contacted us to combine our orders which saved us from another shipping cost. My parents ordered us a bin at the same time and FinnBin was graciously willing to cancel our order and provide a refund. Since our FinnBin arrived it has been a wonderful addition to our home. Our son loves to nap in his bin and we love having a safe place for him to nap! We highly recommend FinnBin to any new parent!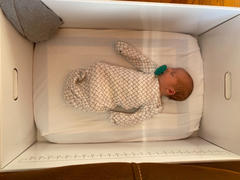 10/31/2020
Bria M.
United States
Excited for Our Arrival!
We just learned about the finnbin from a friend and we were super excited when we received our order within days of our purchase. We did a lot of research about the Finnish baby boxes and it is a truly genius idea. Our little one is expected to be with us in a matter of weeks and I feel much more confident knowing I can move the baby around the house with me rather than having to keep returning to a room to check on them. The box is extremely sturdy and perfect dimensions for a young little one! We cannot wait to try it out soon!