Baby Box Boxinet™: Baby Shower Special
The Finnbin Boxniet™ Baby Shower Special baby box is a perfect gift for expecting parents. Inspired and created to replicate the baby boxes of Finland, the Finnbin Boxinet™ baby box is made in the USA and features a gender neutral "Clouds & Stars" design. The Finnbin Boxinet™ is a safe place where baby can sleep in the parents' bedroom and can be relocated throughout a home during the day when it's nap time.
The Finnbin Boxinet™ measures 27.5" in length x 17.75" in width x 10.75" in height and includes:
1 x Boxinet™ Baby Box
1 x Baby Box Lid
1 x Infant Waterproof Sleeping Pad
1 x 100% Cotton Fitted Sheets
The Baby Shower Special Baby Box Bundle contains $200 worth of items but only costs $99. It includes:
1 x 8oz Baby Bottle
1 x High Contrast Baby Book
1 x 3-in-1 Thermometer
1 x Bath Thermometer
1 x Pack of Diapers 
1 x Pack of Wipes
1 x Magnetic Footie

1 x Classic Baby Long-Sleeve Onesie 
1 x Baby Yoga Pants
Additional sheets are available for purchase here.
NOTE: Our products change from time to time. Patterns and products reflected in the images may be different than the products listed in the product description.
Customer Reviews
Write a Review
Ask a Question
Filter Reviews:
Finnbin
room
baby
everything
items
bean
case
05/25/2020
Ila M.
United States
My new, go-to baby shower gift
I have not used the items myself, but sent the box/items as a virtual baby shower gift. The mom-to-be loved it so much that I just sent a second box to another mom-to-be for her shower. I love the assortment of quality of items that are offered.
05/24/2020
Annelies P.
United States
Love the box
I am from Europe I give this box to all my friends It is the best❤️❤️❤️❤️
T
05/23/2020
Tatiana
United States
Very pleased with the Finn Bin!
I am very pleased with this Finn Bin. It arrived quickly and the box was in perfect shape. The box is strong and sturdy but light. I think we're going to enjoy bringing it from room to room with us as an easy portable bassinet. I also LOVE that it can transform into a toy storage box for the baby when he grows out of the box for sleeping (this is especially the case because there was a fantastic organizer for the baby shower products included with the box). For such an affordable product, I think we we will get many years of use out of it. The baby shower products that came in the box were all high quality and the clothes very soft. The mattress pad seems to be comfortable although my little one hasn't slept on it yet.
05/19/2020
Lisa D.
United States
Just what we needed!
Love our box full of goodies and can't wait for our baby girl to actually be sleeping in her box!
05/10/2020
Sophie G.
United States
Adorable Concept
I received my finbin in a timely manner and thought it was adorable right off the bat! Everything inside was packaged nicely and organized. My only complaint is several corners of my finnbin were a bit crushed and one tore a little bit. I would still recommend this 100% to another mama and I can't wait to see my little bean in his box!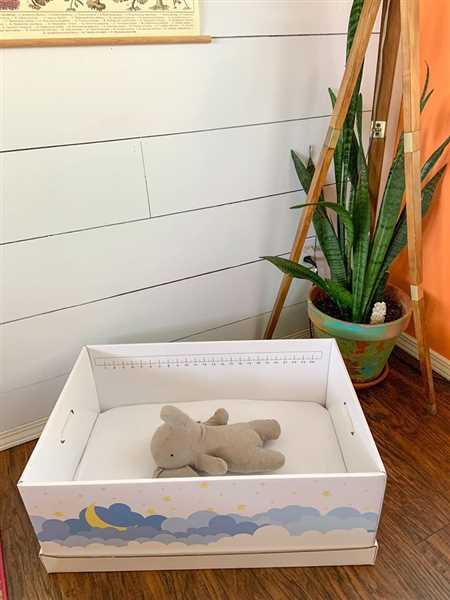 05/10/2020
Finnbin Baby Box
Hi Sophie - I'm so sorry to hear that your Finnbin was dented during shipping. I'll follow up with you separately via email, but let's file a claim with UPS and make sure you get a baby box in perfect condition. Your little one deserves it :)
05/04/2020
SPENSER C.
United States
Friend loved it!
Ever since I heard of baby boxes a few years ago, I knew I wanted to get one for my next niece or nephew. Well, that didn't happen, but I did get one for a coworker! She absolutely loved everything in the box, and it really filled a need for her as a single mom- she has a lot of overnights at her mom's house and goes back to her house the next day and was really stressing about where baby was going to sleep - you can't drag a bassinet everywhere! Plus, with the baby box, you can just toss all the baby stuff (there is a lot of baby stuff) and toss it all in the trunk, good to go!
ML
04/26/2020
Michael L.
United States
Wonderfully practical!
Such a great gift. We were not able to have a baby shower for my wife due to social distancing so this was a great alternative. Great product. Totally worth the purchase. Only wish we could have selected items per package, like a 6-item customizable Bin. Having the option for different baby clothes in newborn or 0-3m sizes would have been useful. Maybe it is and I haven't found it yet. Thanks Finnbin!
04/14/2020
Cheryl P.
United States
Baby Shower Boxinet
I got this for our !st GreatGranddaughter"s virtual shower. Our granddaughter & I skyped as she opened the box and revealed the contents. She was thrilled with everything included, the softness of the clothing, blankets, and even the sheet for the bedding. Everything is well thought out, and useful for a new baby. My being 100% Finn and proud of my heritage, she was thrilled that I had this sent from Finland for her. Thank You!